Organization: Lehrstuhl für Nachhaltige Rohstoffgewinnung und Institut für Rohstoffingenieurwesen
Location: 52062 Aachen, Germany
Research Assistant – Doctoral Candidate (f/m/d) in Remote Sensing of Mine Wastes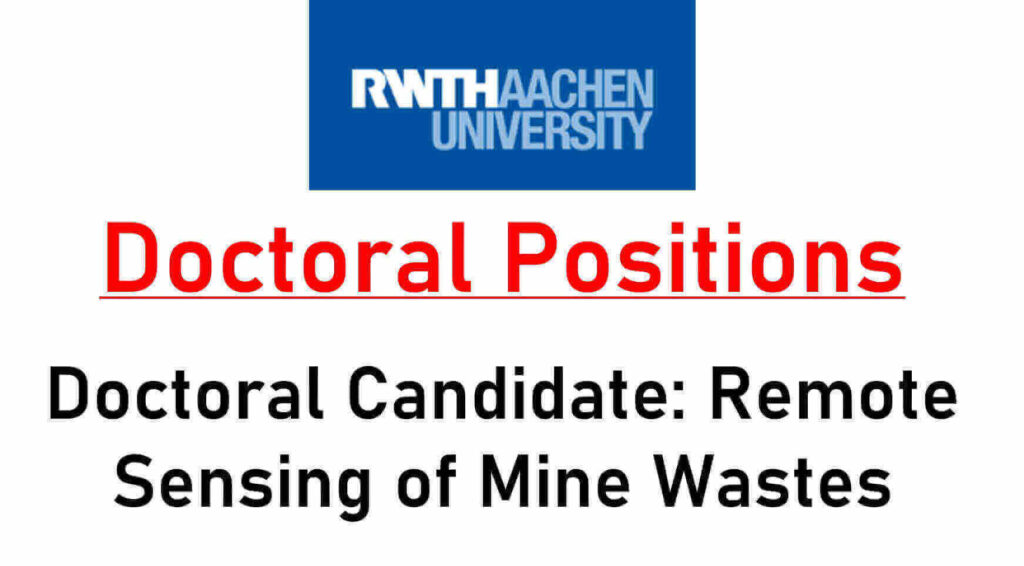 Our Profile
The Institute of Mineral Resources Engineering (MRE) focuses its research and teaching on the sustainable extraction of raw materials. Starting with the search for and evaluation of deposits, through the technology and organization of mines, to raw material markets.
Our ambition is the overall knowledge of resources. The institute employs individuals with engineering and geoscientific backgrounds. Student assistants with diverse backgrounds support us in a wide range of tasks. Technical and administrative staff as well as an efficient administration complete our team of about 30 people. The institute is integrated into the Faculty of Geo-resources and Materials Engineering and contributes significantly to the study programs Sustainable Raw Materials and Energy Supply and Raw Materials Engineering. We serve a number of national and international research projects, funded by sovereign, institutional and industrial sponsors.
We offer an attractive international workplace with modern state-of-the-art equipment (https://mre.rwth-aachen.de/en/research/infrastructure/). We have a strong team in mining engineering and mineral resource science (https://mre.rwth-aachen.de/en/institute/people/). This will give you an interesting and challenging environment, in which you have the chance to play a significant role.
Your Profile
You have an MSc degree (or equivalent) in remote sensing with research interests in the application of remote sensing and drones to the raw materials sector and a strong background in the geosciences. You have basic experience in the field of remote sensing, particularly satellite remote sensing, and geographic information, as well as the use of drones. You are motivated, open for new research fields and able to communicate with other researchers. Excellent English skills are mandatory (C1 level preferred), moderate knowledge in German is an advantage (B1 level), and fitness for working in mine site environments is expected.
Your Duties and Responsibilities
The candidate will have the responsibility to conduct internationally visible research in the planned project "Satellite remote sensing and ground truth data acquisition of European mine waste repositories". In this project, satellite remote sensing methods and the use of drones for the assessment of mining residues are to be evaluated in cooperation with European partners, and a new EU research proposal is to be developed. Your responsibility will be: (1) Implementation of the research project in close cooperation with scientific employees of the Institute of Mineral Resources Engineering and the project partners; (2) Identification of suitable funding programs and the development of research questions on the subject of remote sensing and the use of drones in the raw materials sector; (3) Concept development and preparation of research proposals in close cooperation with the interdisciplinary team. You will be given the opportunity to prepare a PhD thesis.
What We Offer
The successful candidate will be employed under a regular employment contract.
The position is to be filled at the earliest possible date and offered for a fixed term of three years.
The fixed-term employment is possible as it constitutes one of the fixed-term options of the Wissenschaftszeitvertragsgesetz (German Act on Fixed-term Scientific Contracts).
This is a part-time position (75 % of the standard weekly hours for full-time employees).
The successful candidate has the opportunity to pursue a doctoral degree in this position.
The salary is based on the German public service salary scale (TV-L).
The position corresponds to a pay grade of EG 13 TV-L.
About us
Contact
If you have any questions, please contact
Prof. Dr. Bernd Lottermoser
Tel.: +49 (0)241-8095667
Email: [email protected]
Please send your application by May 13, 2023 to
Prof. Dr. Bernd Lottermoser
Lehrstuhl für Nachhaltige Rohstoffgewinnung und Institut für Rohstoffingenieurwesen
Wüllnerstraße 2
52062 Aachen, Germany
Applicants are invited to submit their applications via email to: [email protected]. For data protection reasons, however, we recommend sending applications via mail.
RWTH is a certified family-friendly University. We support our employees in maintaining a good work-life balance with a wide range of health, advising, and prevention services, for example university sports. Employees who are covered by collective bargaining agreements and civil servants have access to an extensive range of further training courses and the opportunity to purchase a job ticket.
RWTH is an equal opportunities employer. We therefore welcome and encourage applications from all suitably qualified candidates, particularly from groups that are underrepresented at the University. All qualified applicants will receive consideration for employment and will not be discriminated against on the basis of national or ethnic origin, sex, sexual orientation, gender identity, religion, disability or age. RWTH is strongly committed to encouraging women in their careers. Female applicants are given preference if they are equally suitable, competent, and professionally qualified, unless a fellow candidate is favored for a specific reason.
As RWTH is committed to equality of opportunity, we ask you not to include a photo in your application.
You can find information on the personal data we collect from applicants in accordance with Articles 13 and 14 of the European Union's General Data Protection Regulation (GDPR) at http://www.rwth-aachen.de/dsgvo-information-bewerbung.
Location: Aachen, Germany
Contract duration: Fixed-term employment
Job evaluation: EG 13 TV-L
Start date: as soon as possible
Working hours: Part-time (75%)
Application time: 13.05.2023
Job type: Academic staff
ArcGIS Data Scientist Earth Science ESRI Jobs geoinformatics jobs Geospatial jobs gis Administrator gis analyst gis careers giscareers GIS Database gis jobs gisjobs GIS jobs in Bangalore GIS Jobs in BENGALURU gis jobs in Chandigarh gis jobs in dehradun GIS Jobs in Delhi gis jobs in Gurgaon gis jobs in Haryana gis jobs in Hyderabad gis jobs in India gis jobs in Maharashtra gis jobs in Mumbai GIS jobs in New Delhi gis jobs in pune gis jobs in Punjab gis jobs in roorkee gis jobs in Telangana gis jobs in Uttarakhand gis mapping jobs GIS Openings GIS Specialist gis vacancy kvs location kvs sangathan NESAC Jobs PhD Position post doctoral position Postdoctoral Research Assistant Postdoctoral Researcher Remote Sensing remote sensing and gis jobs remote sensing jobs Research Scientist WebGIS Wildlife Jobs
For more GIS Job Vacancies: Click Here
| | |
| --- | --- |
| Job Category | Earth Science, Geo-informatics, Geomatics, PhD/Post-Doc, RS and GIS |