Organization: Ministry of Jal Shakti, Department of Drinking Water & Sanitation
Location: CGO Complex, New Delhi-110 003
Deadline: 20.03.2023
Job Description (Director & Head of Institute (GIS))
Dr. Syama Prasad Mookerjee National Institute of Water & Sanitation (SPM-NIWAS) [erstwhile National Centre for Drinking Water, Sanitation & Quality] is an autonomous institution, registered as a society under the aegis of Department of Drinking Water & Sanitation, Ministry of Jal Shakti, Government of India and situated at Joka, Diamond Harbour Road, Kolkata, West Bengal. It is an apex institute in the field of drinking water quality & sanitation.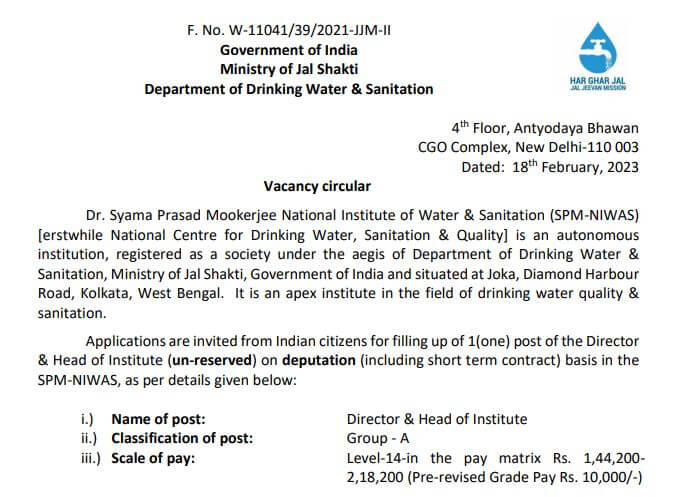 Educational and other qualifications:
i.) B.Tech. (Civil or Chemical) with M. Tech with specialization in Environmental
Engineering from recognised University/ Institution.
OR
M.Sc. (Chemistry or Environmental Science) with Ph.D. in Chemistry or Environmental
Science
ii.) Publications of papers/ policy documents/ special reports, three (3) at national level
and one (1) at international level; or six (6) at national level on drinking water quality.
iii.) Knowledge of GIS, RS and HGM maps and sound working knowledge on computer.
Minimum Experience:
25 years of regular service in relevant field out of which – five (5) years in the prerevised Pay scale PB-4 with Grade Pay Rs. 8,900/- or equivalent IDA scale in Central/
State/ Union Territories Govt./ Universities/ recognised research Institution/ PSUs/
Semi Govt./ autonomous organisation
OR
seven (7) years in the pre-revised pay scale PB-4 with Grade Pay Rs. 8,700/- or
equivalent IDA scale in Central/ State Government/ UT Administration/ Universities/
recognised Research Institution / PSUs/ Semi Govt./ autonomous organisation
Download Official Detailed Notification: Click Here
For more GIS Job Vacancies: Click Here
| | |
| --- | --- |
| Job Category | Geo-informatics, Geography |