Organization: The Helmholtz Centre Potsdam – GFZ German Research Centre for Geosciences
Location: Potsdam
Deadline: 31st July 2022
Job Description (Postdoctoral Position – hyperspectral remote sensing)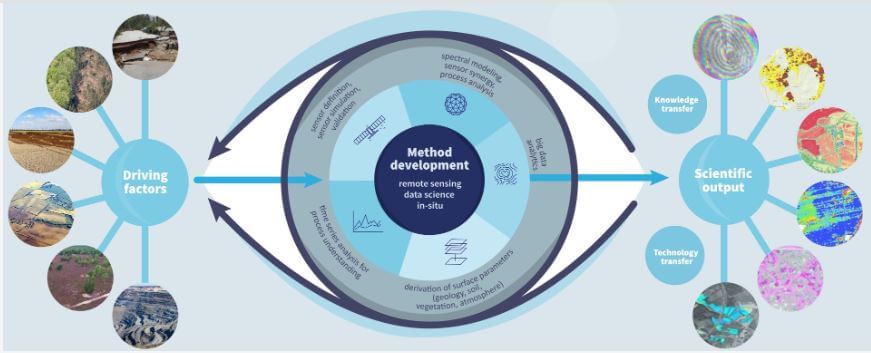 Reference Number 6306
more specifically, in the field of imaging spectroscopy in geosciences as part of the scientific support of the EnMAP satellite mission.
The Environmental Mapping and Analysis Program (EnMAP, www.enmap.org) is the recently launched German hyperspectral satellite mission funded by the German Federal Ministry of Economic Affairs and Climate Action. The main scientific goal of EnMAP is to provide high-quality data for the analysis of environmental changes, ecosystem responses to human activities, and the management of natural resources. The GFZ Potsdam has the scientific lead of the mission and is responsible for (1) scientific mission support to the mission management at DLR, (2) data pre-processing, data simulation and data quality assessment, (3) development and evaluation of retrieval approaches in geosciences, and (4) scientific coordination, community building and training activities.
As part of the EnMAP team you will be responsible for the further development, maintenance, validation and publication of EnMAP preprocessing algorithms that are made available to the user community in the frame of the EnMAP Processing Tools (EnPT) in the EnMAP-Box software. We are looking for candidates that bring in own hyperspectral application fields of expertise in geosciences such atmosphere, snow/ice, soils or similar for EnMAP data validation and the development of application tools for the EnMAP Box. In addition, you will be involved in the ongoing scientific mission support activities.
Your responsibilities:
Extension and maintenance of the EnMAP atmospheric correction free and open source software methods
Algorithm development, validation and publication of application case studies based on PRISMA and new EnMAP satellite data
Scientific mission support tasks including the EnMAP background mission and EnMAP data proposal evaluation process as well as community and capacity building activities
Present and publish results at conferences and in international journals
Your qualifications:
MSc, PhD in physics, geosciences or related disciplines with a strong background in remote sensing and imaging spectroscopy
Experience in hyperspectral remote sensing data analysis, knowledge of atmospheric correction procedures desirable
Excellent quantitative analytical and coding skills, pre-knowledge of Python desirable
Ability to publish shown by a track record of publications
Experience in proposal writing would be a plus, willingness to apply for follow-up projects
Ability to work both independently and in a team environment with collaborations to national and international colleagues
Fluency in spoken and written English is a prerequisite, basics of the German language would be helpful
A driving license may be useful, but not a must
What we offer:
Ambitious and varied tasks in a dynamic and international research environment
State-of-the-art equipment
Public service benefits
Extensive training opportunities
Professional career advice offered by our in-house Career-Centre
Flexible working hours and conditions
Support with finding a good work-life balance offered by benefit@work
Institute day-care centre on site
Working at the Albert Einstein science park on the Telegrafenberg in Potsdam
Work place within walking distance of Potsdam main train station, or just a short ride on the shuttle bus
---
Start date: As soon as possible, ideally not later than October 2022
Fixed-term: bis zum 31.12.2023
Salary: The position is classed as salary group 13 according to "TVöD Bund (Tarifgebiet Ost)". The salary group is determined on the basis of the Collective Wage Agreement and the respective personal qualifications.
Working hours: Full-time (currently 39 h/week); The position is generally suitable for part-time work.
Place of work: Potsdam
---
Have we piqued your interest?
If so, we look forward to receiving your application by 31st July 2022. Please use our online application form only.
For more GIS Job Vacancies: Click Here