Organization: Space Application Centre, ISRO, Ahmedabad
Location:  Ahmedabad, Gujarat-380015
Deadline: 08/01/2023
Job Description (ISRO Recruitment)
Space Applications Centre (SAC), ISRO is looking forward to engage bright candidates with scientific aptitude to work as Junior Research Fellows (JRF), Research Associates (RA) and Project Associate – 1 (PA-1) in multi-disciplinary fields and project activities related to Natural Resources, Environment, Ocean, Atmosphere, Studies related to Planetary Sciences and Microelectronics/VLSI.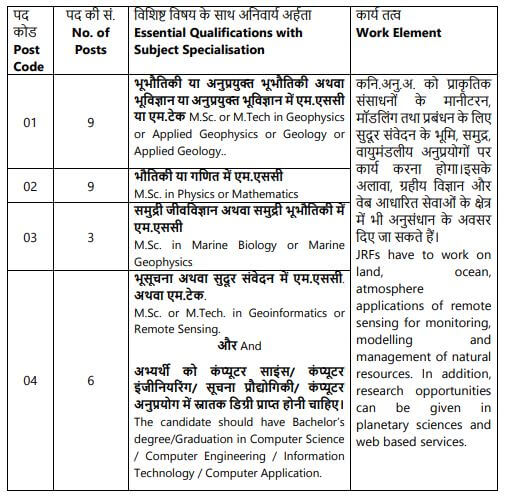 SELECTION PROCESS:
The qualification prescribed is the minimum requirement and possession of the same does not automatically make the candidates eligible for selection. Shortlisting of candidates will be done based on academic records or written test (if required). The shortlisted candidates will be called for interview. Communication shall be sent only to the shortlisted candidates. The selection will be based on the performance in personal interview only. In case candidate is claiming equivalent specialization, he/she has to obtain certificate from his/her Institute/University stating that the specialization is equivalent to the one asked in the advertisement for the post applied for. SAC reserves the right for the final decision. The call letters for the interview to the short-listed
candidates will be sent only by e-mail. No communication shall be made to the candidates who are not short-listed.
The selected JRFs are encouraged to register for Ph.D. from recognized Universities and take up relevant research topic benefitting the individual and SAC. However, they have to work extra time to complete the Ph.D. research for which any leave will not be granted separately.
Download Official Detailed Notification: Click Here|APPLY NOW
For more GIS Job Vacancies: Click Here