Organization: MP COUNCIL OF SCIENCE & TECHNOLOGY
Location: Vigyan Bhawan, Science Hills, Nehru Nagar, Bhopal – 462003
Deadline: 12th August 2022, till 20:00 hrs
Job Description (MPCOST GIS Jobs)
The MP Council of Science & Technology, Bhopal is working for Department of Agriculture, Government of Madhya Pradesh recently launched project called AGRI GIS and for SAC, ISRO sponsored Forest Phenology under IGBP and Rain fall Validation projects.
In this connection, MP COUNCIL OF SCIENCE & TECHNOLOGY (MPCST), Bhopal, invites online applications from young dynamic interested eligible candidates for empanelment of candidates to work in various projects and positions as Sr. Analyst, Jr. Analyst, Project Fellow, System Manager and Research Associate (RA) at MPCST, Bhopal. This empanelment is purely on temporary basis/ project mode/ contract basis, initially for a period o f 31.03.2023, can be extended maximum up to concern project period, based on performance of the candidates.
The interested eligible candidates may apply online at link:202.21.38.63/SubmitForm.aspx. The last date for submission of online application is 12th August 2022, till 20:00 hrs incomplete applications and applications received after 12th August 2022 due to any reason will not be considered. The intimation of interview schedule of eligible candidates for each position will be communicated to the shortlisted candidates through MPCST website: link "Job Opportunities" at www.mpcost.gov.in. Applicants should check it regularly.
The Director General, MPCST reserves rights for postponement of last date for submission of applications, amendment or cancellation or withdrawal of the advertisement.
The further details regarding requisite educational qualification, experience, remuneration for each position and general instructions are given at page number 2 and 3 in this document.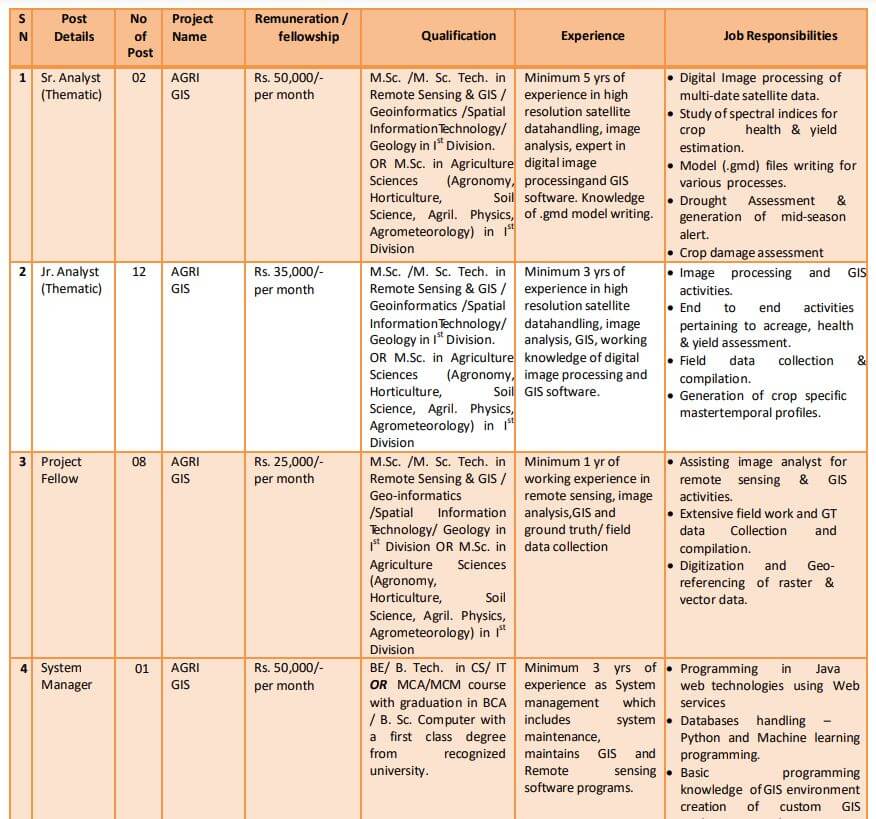 Download Official Detailed Notification: Click Here
For more GIS Job Vacancies: Click Here