Organization: Central University of Rajasthan
Location: NH-8, Bandar Sindri, Dist-Ajmer-305817, Rajasthan [INDIA]
Deadline: 24.03.2023
Job Description (Junior Research Fellow | Research Associate)
Applications are invited from Indian citizens for the temporary project position of Junior Research Fellow(no of posts: 03) and Research Associate (no. of posts: 01) for the Ministry of Earth Sciences sponsored project under the National Radar Meteorology Program (NARM) with the details mentioned below.
Project Title: – Generation of Merged Radar, Rain-gauge & Satellite Precipitation and Retrieval of Cloud Microphysical parameters using DWR and Numerical Model Products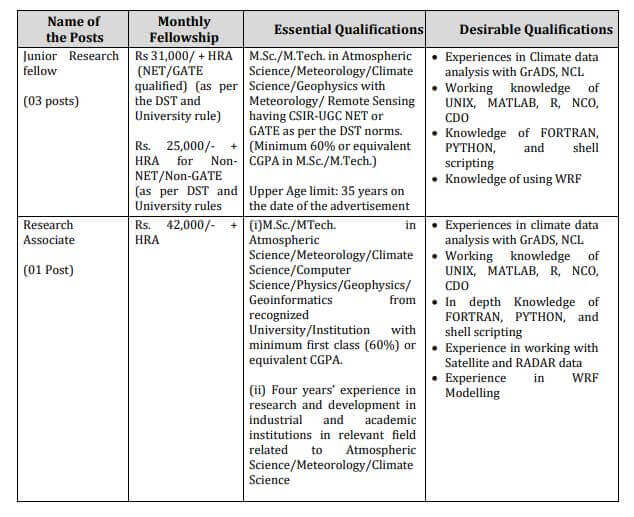 How to Apply
Eligible and Interested candidates who wants to apply for above mentioned posts need to fill the following form below by the last date https://forms.gle/KdgHmNCfNCQrpYhm6
LAST DATE OF APPLICATION: 24.03.2023
Shortlisted candidates will be considered for an interview (physical mode) later which will be intimated by email. Selected candidates will have to bring all original certificates, experience certificates and other relevant documents at the time of Joining for verification.
The selected candidates can be considered for Ph.D. program (for Project Associate -I Post only) of the university fulfilling the required criteria as per university rules.

Dr. Jayanti Pal
Assistant Professor
Project Investigator
Department of Atmospheric Science
Email: jayanti.pal@curaj.ac.in
Mob:+91-8013906997
Download Official Detailed Notification: Click Here
ArcGIS Data Scientist Earth Science ESRI Jobs geoinformatics jobs Geospatial jobs gis Administrator gis analyst gis careers giscareers GIS Database gis jobs gisjobs GIS jobs in Bangalore gis jobs in Chandigarh gis jobs in dehradun GIS Jobs in Delhi gis jobs in Gurgaon gis jobs in Haryana gis jobs in Hyderabad gis jobs in India gis jobs in Maharashtra gis jobs in Mumbai GIS jobs in New Delhi gis jobs in pune gis jobs in Punjab gis jobs in roorkee gis jobs in Telangana gis jobs in Uttarakhand gis mapping jobs GIS Openings GIS Specialist gis vacancy kvs location kvs sangathan NESAC Jobs PhD Position post doctoral position Postdoctoral Research Assistant Postdoctoral Researcher Remote Sensing remote sensing and gis jobs remote sensing jobs Research Scientist Wildlife Jobs
For more GIS Job Vacancies: Click Here