Organization: MPSEDC
Location: Bhopal, MP, India
Deadline:  10th Mar 2023
Job Description (Govt GIS Jobs 2023 |Manager Software (GIS)| Desktop GIS Developer |GIS Business Analyst Lead | GIS DBA | GIS Engineer |GIS Application Development Lead | Remote Sensing Analyst | Manager Remote Sensing | Group Manager GIS | GIS Software Engineer)
Please read the Job Description carefully before applying. Apply only if you meet 'ALL' the Essential Criteria.
Clearly mention your experience, education & Project details in your timesjobs.com profile. Qualification through universities accredited by AICTE, UGC or NAAC shall only be considered valid. Shortlisting of applications will be based on the criteria mentioned in the Job Description (JD) specified by MPSeDC. The job is for a fixed term employment for upto 2 years which is extendable based on performance of individual & requirement of the organization. Applications will be accepted only through this online application system.
Candidates can start applying for the positions from 24th Feb 2023 after 01:00 P.M. Last date to receive applications is 10th Mar 2023.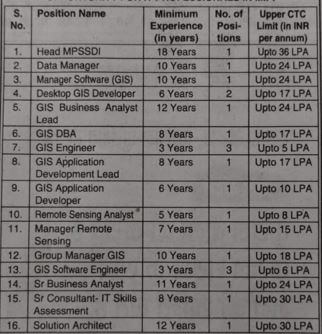 S. No.
Position Name
No. ofVacancies
Location
Qualification
Max. SalaryRs. (p.a.)
MinimunExperience
Job Descriptions
Link to Apply
1.
Head MPSSDI
1
Bhopal
Full time Post Graduate degree in GIS/ Remote Sensing / Geo-informatics/Geology /Geography or equivalent subject.
OR 
Graduate in Engineering with Full time Post graduate diploma in RS / GIS / Geo-Informatics or equivalent subject
Upto 36 LPA
18 Years
Click Here
Click Here
2.
Data Manager
1
Bhopal
B.E. / B.Tech (Any)
OR
PG in (IT/CS) or equivalent
OR
Full time Post graduate degree in GIS/ Remote Sensing/ Geo-informatics or equivalent subject with certification in Database Management
Upto 24 LPA
10 Years
Click Here
Click Here
3.
Manager Software (GIS)
1
Bhopal
BE / B.Tech (Any)
OR
PG in CS / IT Or Equivalent
OR
Full time Post graduate degree in GIS/ Remote Sensing / Geo-Informatics or equivalent subject
Upto 24 LPA
10 Years
Click Here
Click Here
4.
Desktop GIS Developer
2
Bhopal
B.E./B.Tech (Any)
OR
PG (CS/IT) Or Equivalent
Upto 17 LPA
6 Years
Click Here
Click Here
5.
GIS Business Analyst Lead
1
Bhopal
Fulltime post-graduate degree in GIS/ Remote Sensing/Geo-informatics or equivalent subject.
OR
Graduate in Science or Engineering with Fulltime post-graduate diploma in RS/GIS/ Geo-Informatics or equivalent subject
Upto 24 LPA
12 Years
Click Here
Click Here
6.
GIS DBA
1
Bhopal
B.E./B.Tech in (in any stream) / or equivalent or MCA/equivalent
Upto 17 LPA
8 Years
Click Here
Click Here
7.
GIS Engineer
3
Bhopal
Full time Post-graduate degree in GIS/ Remote Sensing/ Geo-informatics/ Agriculture/Environment/ Geology/ Geography/Planning/Architecture/ Computer Application.
OR
Graduate in Engineering/Architecture/ Planning with Full time Post graduate diploma in RS/GIS/Geo-Informatics
Upto 5 LPA
3 Years
Click Here
Click Here
8.
GIS Application Development Lead
1
Bhopal
B.E./B.Tech (Any)
OR
PG (CS/IT) Or Equivalent
Upto 17 LPA
8 Years
Click Here
Click Here
9.
GIS Application Developer
1
Bhopal
BE / B.Tech (Any Stream)
OR
PG (CS/IT) OR Equivalent
Upto 10 LPA
6 Years
Click Here
Click Here
10.
Remote Sensing Analyst
1
Bhopal
Full time post-graduate degree in GIS/ Remote Sensing/ Geo-informatics/ Agriculture /Environment /Geology/ Geography/Planning/ Architecture/ Computer Application.
OR
Graduate in Engineering/Architecture/ Planning with Full time Post graduate diploma in RS / GIS / Geo-Informatics
Upto 8 LPA
5 Years
Click Here
Click Here
11.
Manager Remote Sensing
1
Bhopal
Full time Post Graduation degree in Geology/ Geo-informatics/ Remote Sensing/ Geography/ Environment or related subject.
OR
BE/B. Tech/ MCA in Computer Science/ IT/Civil Engineering
Upto 15 LPA
7 Years
Click Here
Click Here
12.
Group Manager GIS
1
Bhopal
Graduation Details: Any stream
Post-graduation Details:
Full time Post Graduation degree in Geology / Geo-informatics / Remote Sensing / Geography / Environment Science / Spatial Information Technology/ Geomatics/GIS/Remote Sensing and GIS/ Geo-spatial Technology
Upto 18 LPA
10 Years
Click Here
Click Here
13.
GIS Software Engineer
3
Bhopal
B.E./B.Tech (Any)
OR
PG (CS/IT) or Equivalent
Upto 6 LPA
3 Years
Click Here
Click Here
14.
Sr Business Analyst
1
Bhopal
Graduate or Post-Graduate in Computer Science/ Information Technology/ Engineering (in any stream)
Upto 24 LPA
11 Years
Click Here
Click Here
15.
Sr Consultant – IT Skills Assessment
1
Bhopal
B.E / B.Tech/ MCA
Upto 30 LPA
8 Years
Click Here
Click Here
16.
Solution Architect
1
Bhopal
B.E / B. Tech (in any stream) / MCA / MSc (CS/IT) or Postgraduation in (CS/IT)
Upto 30 LPA
12 Years
Click Here
Click Here
Download Official Detailed Notification: Click Here
For more GIS Job Vacancies: Click Here