Organization: Motilal Nehru College, University of Delhi
Location: University of Delhi South Campus, Benito Juarez Road, New Delhi – 110021
Job Description (Assistant Professor)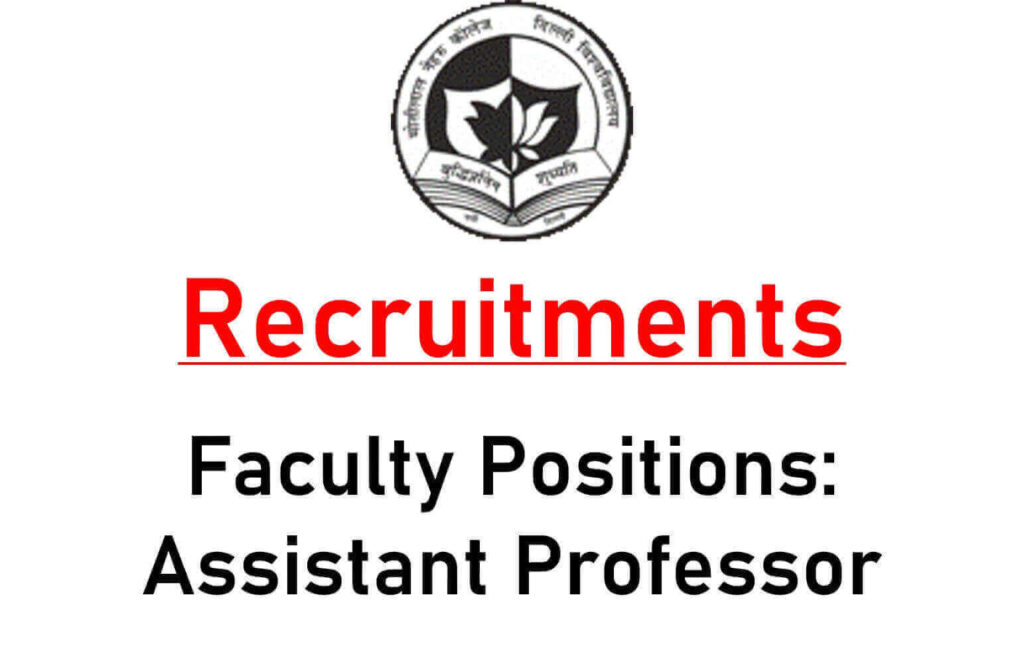 Online applications are invited In the prescribed Application Form at web link https:tholrec.uod.ac.in from the eligible candidates for appointment to the post of Assistant Professor, in the Academic Pay Level 10 with rationalized entry pay of Rs.57,700/- as per 7″ Central Pay Commission Pay Matrix in addition to other usual allowances. The last date of receipt of application is two weeks from the date of publication of the advertisement in the Employment News. For details, please visit the College Website www.mIncdu.ac.In as well as University of Delhi Website www.du.ac.in.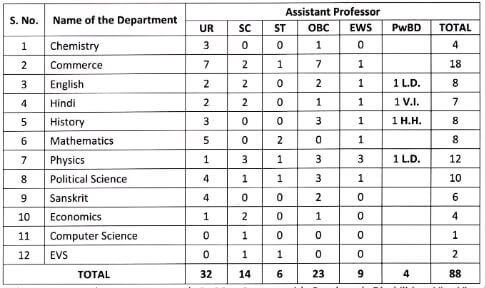 Essential Qualifications:
Assistant Professor : Eligibility (A or B):
A. A Master's degree with 55% marks (or an equivalent grade in a point-scale wherever the grading system is followed) in a concerned/relevant/allied subject from an Indian University, or an equivalent degree from an accredited foreign University.

B.Besides fulfilling the above qualifications, the candidate must have cleared the National Eligibility Test (NET) conducted by the UGC or the CSIR (exemption from NET shall be granted in accordance with clause (II) and (Iil) of General Note in the last section of this document.
OR
The Ph.D. degree has been obtained from a foreign University/Institution with a ranking among top 500 in the world University Ranking (at any time) by any one of the following: (i) Quacquarelli Symonds (QS) (ii) The Times Higher Education (THE) or (iii) The Academic Ranking Of World Universities (ARWU) of the Shanghai Liao Tong University (Shanghai).
Download Official Detailed Notification: Click Here
ArcGIS (4) Data Scientist (6) Earth Science (6) ESRI Jobs (4) geoinformatics jobs (66) Geospatial jobs (54) gis Administrator (3) gis analyst (13) gis careers (107) giscareers (4) GIS Database (3) gis jobs (128) gisjobs (13) GIS jobs in Bangalore (20) gis jobs in Chandigarh (5) gis jobs in dehradun (6) GIS Jobs in Delhi (19) gis jobs in Gurgaon (5) gis jobs in Haryana (7) gis jobs in Hyderabad (9) gis jobs in India (50) gis jobs in Maharashtra (5) gis jobs in Mumbai (11) GIS jobs in New Delhi (7) gis jobs in pune (7) gis jobs in Punjab (6) gis jobs in roorkee (5) gis jobs in Telangana (4) gis jobs in Uttarakhand (8) gis mapping jobs (6) GIS Openings (6) GIS Specialist (5) gis vacancy (47) kvs location (3) kvs sangathan (3) NESAC Jobs (5) PhD Position (7) post doctoral position (5) Postdoctoral Research Assistant (4) Postdoctoral Researcher (8) Remote Sensing (7) remote sensing and gis jobs (8) remote sensing jobs (91) Research Scientist (5) Wildlife Jobs (3)
For more GIS Job Vacancies: Click Here